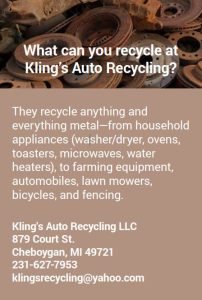 In a world of green businesses, the scrap metal industry is one of the OGs. Long before workplaces started cutting back on paper, using LED bulbs, and watching out for vampire power, scrapyard employees were collecting and scrapping metal so that it could be used as raw material for new products. This process cuts down on pollution caused by the mining and manufacturing of metals with virgin raw material ls, and it also uses less energy. And perhaps most importantly, it keeps millions of tons of scrap metals out of landfills each year.
But you don't need to tell any of this to Chris Singer, the owner of Kling's Automotive Recycling in Cheboygan since 2007. Singer, who's been recycling metals most of his life, was the owner of an auto shop in Walled Lake, Michigan, when he was told about a junkyard for sale up north. Sing , who was 23 at the time, jumped at the chance. "It seemed like a great opportunity to me because I've always enjoyed recycling metals," Singer said. "My dad's side of the family had a long history of it. When I was growing up, we recycled copper, steel, batteries … all that good stuff."
Kling's had been in business for 50 years when Singer purchased it, so he decided to keep the name, which was well-known in the community. The previous owners had concentrated primarily on selling used cars and auto parts, but the demand for used vehicles was low, and as Singer said, "There was money in metal." Switching g a s proved to be an arduous task. "At first, we had very limited resources and equipment because of the move and the purchase of the business," Singer said. "But we started buying scrap metal, we weighed everything by hand and slowly built it up."
Weighing everything by hand is obviously not the most efficient way of recycling, so building the business for Singer meant saving every dime a d reinvesting it in new equipment, including drive- n scales, an excavator, a semi truck, a tow truck, another excavator, and a crane. In the last couple of years, Singer was able to purchase three machines that have exponentially increased his output: a shear/ logger/bailer, a pre-shredder, and a hammer mill.
This is where PIE&G came in. Running the hammer mill required more electricity than was then available to Kling's. So Singer contacted PIE&G, and they approved him for the 3-phase power necessary to power up all of his equipment. "PIE&G really enabled us to grow our business," Singer said. "If it wasn't for them and the ability to do this, it would have been very difficult to do otherwise, and I don't think we'd be where we are."
Singer has a hardworking crew of six other employees, including his son Bryce and his wife Brandy. Brandy began working in the shop when the pandemic hit, she left her dental hygienist position due to the unknown risks at the time. Singer says she's been an asset to the business. "She's personable and she loves to help people out," he said. Though Singer says 99% of the business is recycling, Brandy sells some of the used car parts, helping community members by allowing them to fix their cars less expensively. "It's like a family," Singer said. "Brandy knows 80% of our customers' names by heart, and we love our customers and community here."
The community appears to love the Kling's crew back. Singer said someone from the DNR stopped by the yard one day and thanked them for collecting the scrap metal that people had been throwing away on state land over the years. The also work alongside Emmet County, purchasing many recyclable materials that sanitation workers recover from the trash. In the beginning days of the business, he estimates they moved about 200,000 pounds of metal a month. With his increased electricity and additional equipment, he says the yard now recycles about 4 million pounds a month.