To let us know that you want high-speed fiber internet, go to our fiber website here and at the top right corner of the page, click on the RED BUTTON labeled "I'm Interested in Fiber Internet". This takes you to our internet registration form.
Enter your town and service address where you receive PIE&G ELECTRIC service. (*NOTE: If you have multiple electric accounts, be sure to choose your residence or business service address where you receive electric AND where you want to get fiber internet service. Find your service address also on page 2 of your electric bill.)
From the drop-down menu, choose your ELECTRIC account number where you want the fiber service.
*Important Tips:
1) We are building our fiber network on our electric lines. If you accidentally choose your gas account, you will receive a message that "fiber is not available in your area yet". You should start your registration over and be sure to select the electric account where you want fiber internet service.
2) If you have multiple electric accounts (for example, your house and a pole barn), and you only want internet at your home (not your pole barn), be careful and select your HOME electric account (NOT your pole barn electric account). Your selection is tied to your geographic map location, and also tells PIE&G where you want fiber service. This helps us as we build the network.
Provide your phone number, email address and answers to the questions.
After you SUBMIT your information, you should get a message on the screen that says you are registered. Check your email Inbox (or possibly your Clutter or Junk folders) to find the email that says we received your request. If you have or created a Smart Hub account, you should also receive an email or text from our Smart Hub tool, confirming you signed up.
See where we are currently offering fiber internet service (open zones) here. Find your map location on your electric bill below.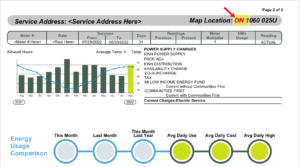 Watch for more updates at piegconnect.com, on this website and on our Facebook page. If you need help finding your information so that you can register your interest, call our Member Service Reps at 1-800-423-6634 Mon-Fri from 8 am to 4:30 pm.