We're excited to tell you about our new fiber division, PIE&G Connect, and our new fiber logo (above)! PIE&G Connect is separate from our electric and natural gas operations. Plus, we're also pleased to announce our proposed construction schedule for all four phases of our fiber internet network!
Please be assured that your Presque Isle Electric & Gas Co-op teams are working tirelessly to complete the necessary preparations for construction and configuration required to deliver fiber internet services as quickly as possible. Sometimes weather or other unforeseen factors may impact our plans, but we will continue to communicate with members about any changes to the schedule.
The schedule is intended to provide an outline for the fiber build for the next several years based on the most current assessment of our project. The sequence of the build phases was driven by two primary factors: proximity to PIE&G's headquarters and the nature of our design. The construction is estimated to take about a year for the completion of each phase.
Below are the four build phases that include associated neighborhoods in each zone with the corresponding substation abbreviation. To find which phase you reside in, please see the first two letters of your "Map Location" listed on your billing statement, and compare it to the substation abbreviations corresponding to each zone or area below.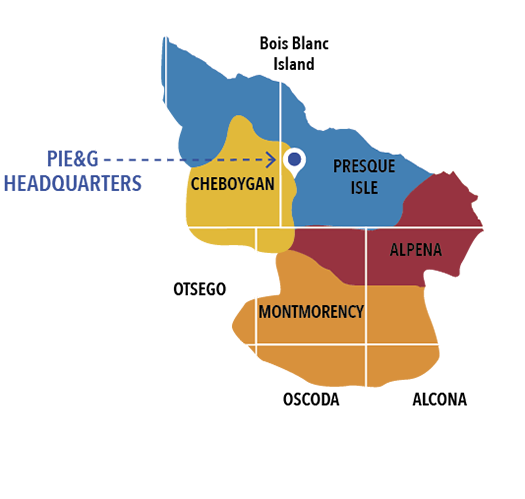 PHASE 1
Begins Q1 2022, tentative completion Q1 2023
Substations included:
PHASE 2
Begins Q1 2023, tentative completion Q1 2024
Substations included:
PHASE 3
Begins Q1 2024, tentative completion Q1 2025
Substations included:
PHASE 4
Begins Q1 2025, tentative completion Q1 2026
Substations included:
Thank you for your enthusiasm and patience as our fiber broadband project unfolds, from all of us at Presque Isle Electric & Gas Co-op. We are excited to take these steps in improving communications and for the opportunities high-speed fiber internet will provide for members. Follow us on Facebook, and check our website and Michigan Country Lines magazine for the latest news.